7inch 2.4G Digital wireless camera system
Touch bottom quad monitor +1080P Wireless camera + DVR Record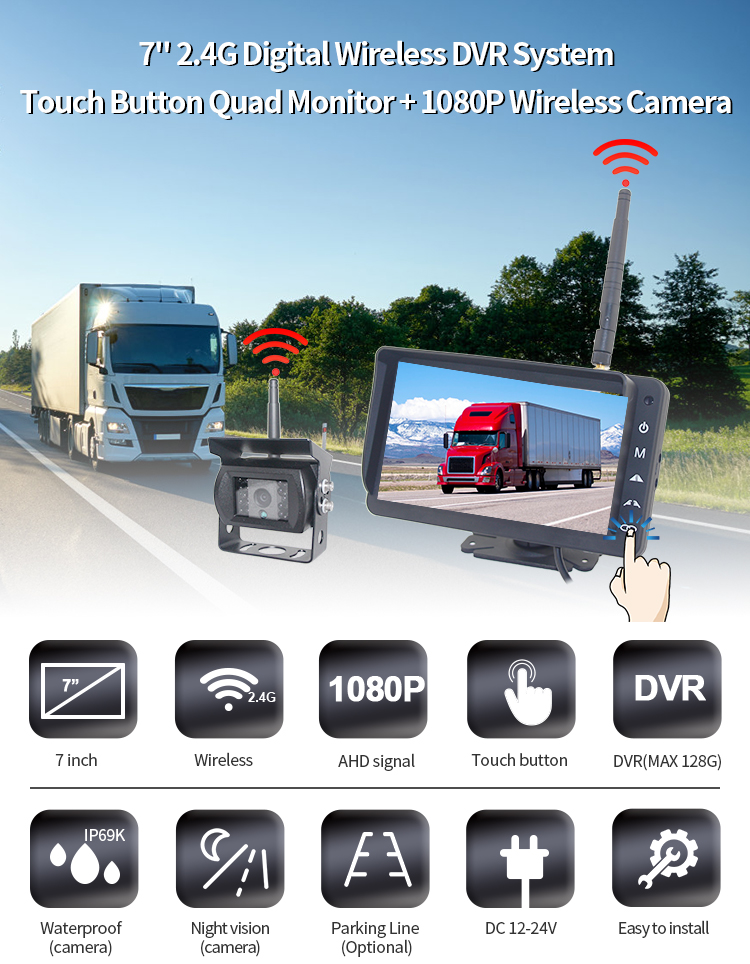 With 2.4G digital wireless transmission, it delivers a stable image. Equipped with great sensor, the backup camera provides vivid picture. The max wireless working range is over 900ft in open area (Included extended antenna for more distance coverage), and 100ft on vehicle for reversing or 80ft on vehicle for continuously use. Backup camera with an IP69K rating, means the camera will work fine in all weather conditions such as pouring rain or violent storms. The menu on LCD monitor can adjust the camera with or without the parking assistant line.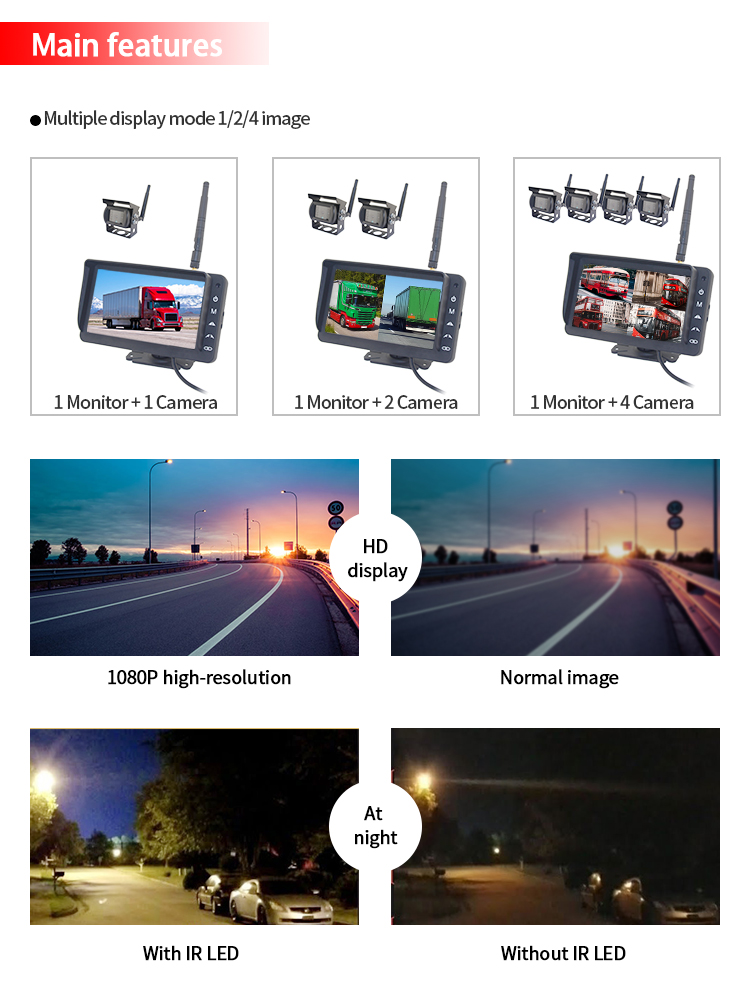 This waterproof backup camera system is complete with a 7" quad digital TFT-LCD monitor with a touch screen display. The camera boasts a 120° viewing angle with 18 infra-reds and an IP69K rating. The Monitor has Split screen ability with two camera or four camera, free to switch the image to single/2 split images/4 split images.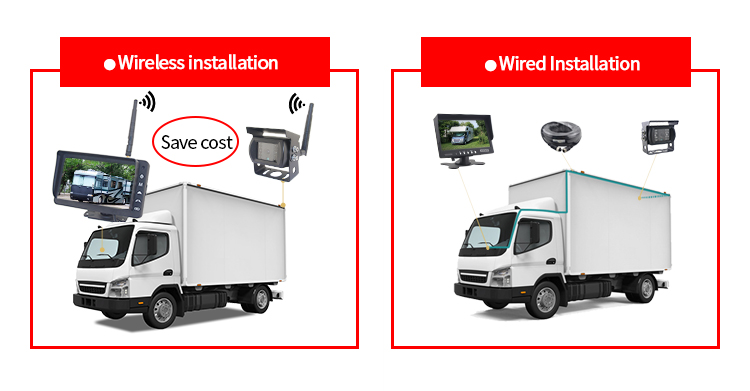 Wireless backup camera and monitor kit is transmitted wirelessly, and no wiring is required between the camera and monitor. (Wireless refers to the transmission between the camera and monitor. You will still need to wire the camera to a power supply.)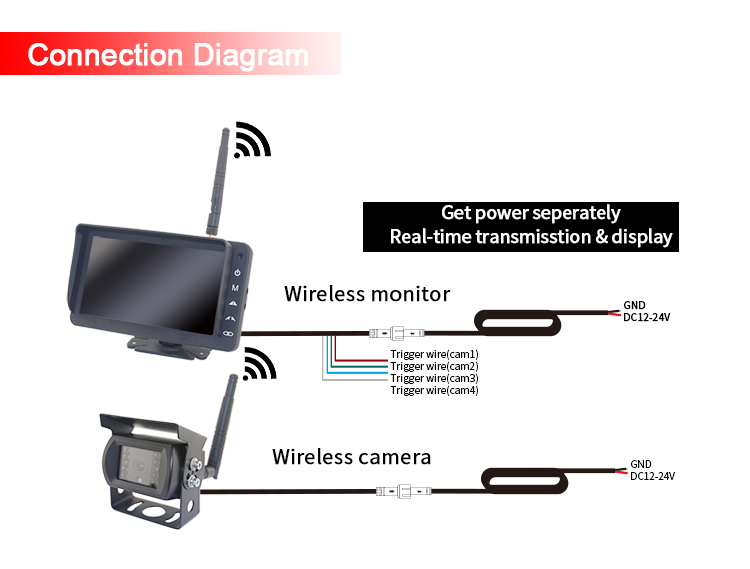 It is easy to install with minimal connections and has automatic triggering through individual camera trigger wires.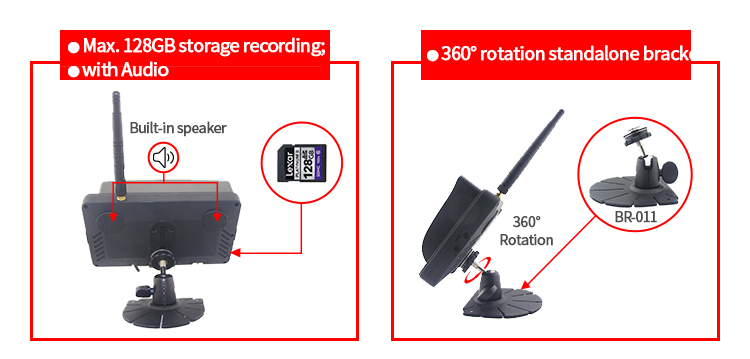 DVR Recording System: Max Card Memory Support Up to: 128GB (NOTE: Memory card is NOT included in the package). Loop recording: automatic deleting previous files when the card is full. Build-in Speaker. 7 Inch LCD display monitor equipped with a stand-alone bracket which is 360 degrees rotation, and the monitor can be mount on dash or windshield.
Comprising a feature packed 7.0 LCD high resolution color monitor with remote control and color infrared camera. The compact monitor includes a sun screen and allows for unobtrusive installation without compromising viewable screen area.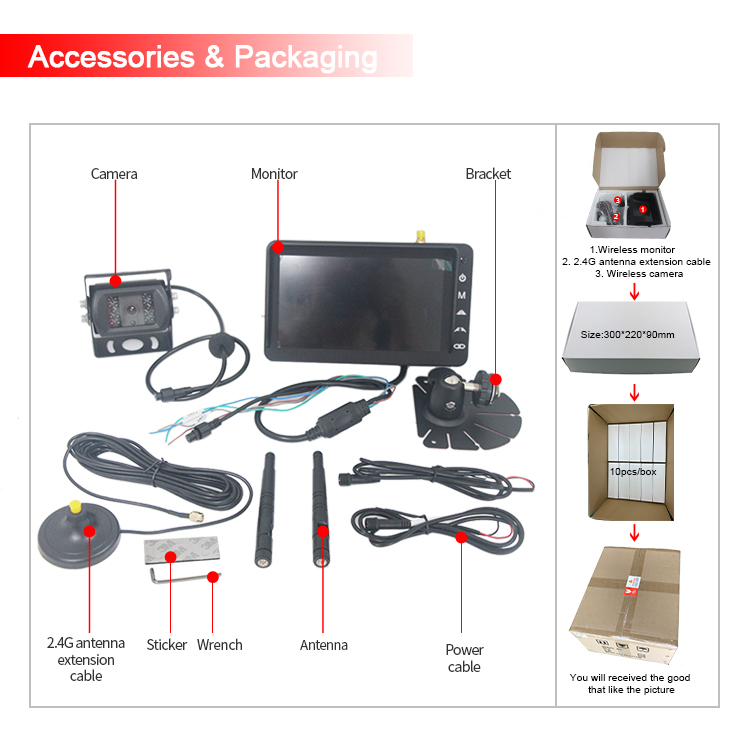 Flexible Vehicle Compatibility: Monitor Voltage range from 10-32V DC power, Camera power supply is DC 12V (wide voltage DC 12-24V Optional) to accommodate a wide variety of large vehicle as Semi-Trailer/Box Truck/5th Wheel/Trailer/Pickup/Forklift/Bus/RVs/Motorhome.